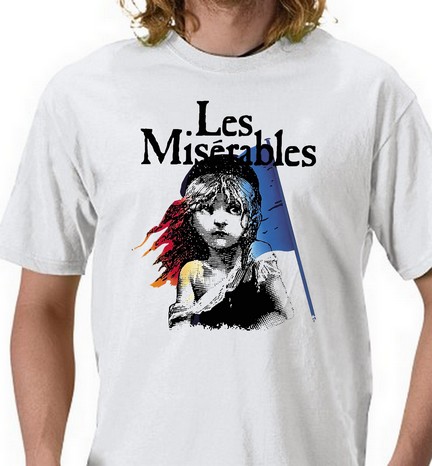 Every generation of high school theater geeks has a show that helps define it.  If you fancied yourself an actor in high school, then you know what I'm talking about.  It's that one show, usually a musical, that's currently playing on a faraway Broadway stage. Your teacher hung posters of it.  You listened to the soundtrack over and over again with intense focus, memorized every word and note, and sang its love songs in the car.  When the show finally came to your town, you begged and borrowed for enough money to buy tickets and wore the cherished T-shirt you bought that night until it disintegrated off your back.
Where I am, the most recent of these musicals is the edgy and sexual Spring Awakening, perfect for teens who seek to be both cultured and naughty.  Just behind that was Wicked, with it tale of high school popularity and misunderstood evil set in the familiar Land of Oz.  For me, it was Les Miserables.  Set in the squalor of 19th century France, Les Miz is Victor Hugo's sweeping epic of pain, love, revolution, and redemption that set the musical world on fire back in the late 80s.
Drama kids in my school ate it up.  We bought the both the London and Broadway soundtracks and blasted "One Day More!" from our tape decks.  We hung our iconic Cosette posters on our bedroom walls.   Young girls got washed away by Eponine's unrequited love, finding in her tragic story an outlet for the (usually unnecessary) drama of their teen years.
Like today's teenage fans, we also went to see it every chance we could get.  I saw it nine times in three cities back then.  I have friends who saw it more: one counts 12, while another counts 15.  We knew it inside out.  And then it stopped touring, we grew up, and we moved on with our lives (hopefully identifying more with Cosette and Marius than with Eponine and the doomed revolutionaries).
This month, the touring 25th Anniversary production of Les Miserables found its way to my part of the country.  All of us who hold the musical dear to our hearts rushed out and bought tickets.  We had heard that they had made some changes, though, and I went to see it with excitement but also a little trepidation.  How could you do Les Miz without the classic turntable stage?
Some of the changes were hits, others were misses.  Javert's suicide was gorgeous, but the cuts and changes to much of the libretto seemed unnecessary.  The previously boring number "Turning" was beautifully done, and so was the "Empty Chairs at Empty Tables" that followed, except that I had trouble getting past the fact that there were no chairs and no tables onstage.
And that brings me to the important question: How much of my reaction to these changes is real criticism and how much is a selfish longing to have the show back the way it was.  To what extent am I really analyzing the creativity and technological updates of the producers, and to what extent am I just being resistant to change?
This is a theme that extends beyond the bounds of theater and into both our mundane and spiritual lives.  Generational conflict is a fact that goes back as far as the human race, and it is grounded in a parents' resistance to the lifestyle changes of their children as well as children's resistance to learning from the wisdom of their parents.
We can see the same theme echoing through the Pagan community.  Ours is a non-dogmatic spirituality, yet there are those who cling to older ways and resist change at all costs. It's understandable.  There is wisdom to traditional ways.  If there wasn't, Paganism would have died a long time ago.  Just as the original version of Les Miz was a blockbuster hit, there is something real to our spiritual roots that made our practices attractive.  Why should we change something that is fine just as it is?
At the same time, change happens.  New people with new ideas come.  Stagnation causes rot, whether it is of a river, a play, or a religion.  Younger minds can add to older material in a way that makes It fresh and exciting again.  In some cases they can even make improvement.  Maybe they won't, but nothing will happen if no one tries.  Life is dynamic and change is inevitable.
The answer probably lies in balance.  Just as the Victor Hugo's revolutionaries sprang forward in a churning ball of anger and emotion and then fizzled when they realized they didn't have enough supplies, too much radical change too quickly can negate your ability to reach your goals.  But just as Javert's unbending adherence to tradition, law, and structure ultimately causes his demise, rigidity is just as deadly as naive aggression.  It is Jean Valjean's ability to learn and grow and adapt that leads him to be the most successful character in the show.
All these years later, I think I would be disappointed if it were the same old musical.  It would be like walking against the old turntable stage: I've changed, but the show hasn't.  We'd be "round and round the roundabout and back where we began."  As comforting as the familiar can be, I'd rather move forward and see new, exciting things.  The movie is coming out at the end of the year.  I can't wait. It will expose me to fresh ideas on something I love (and the trailer looks great).  Armed with the wisdom of those who came before, I'd like to move forward and Hear the People Sing.
Will you join in our crusade?
Who will be strong and stand with me?
Somewhere beyond the barricade
Is there a world you long to see?
Do you hear the people sing?
Say, do you hear the distant drums?
It is the future that they bring when tomorrow comes!